Andersen AFB Medical Clinic Project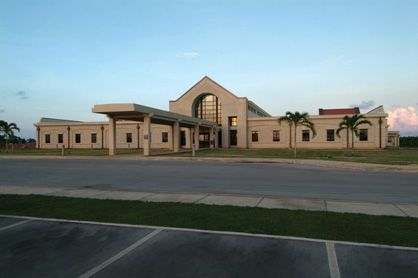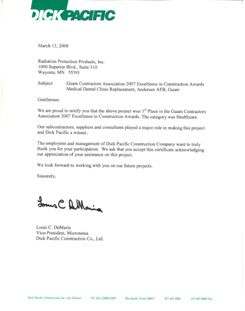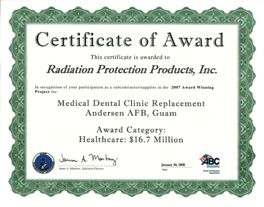 Job Name: Medical/Dental Clinic Replacement Project, Andersen AFB, Guam
Date of Completion: January 15th, 2007
General Contractors/Sub Contractors: Dick Pacific Construction Co., Ltd. (Guam) & Olympic Wall Systems (Brookfield, WI)
Architect: Sherlock, Smith and Adams, Inc.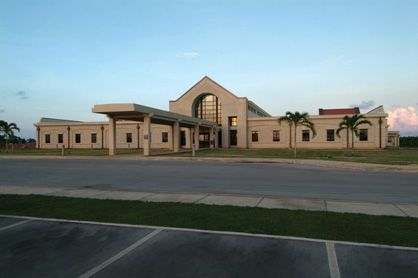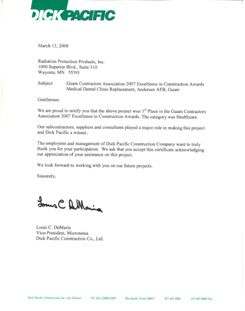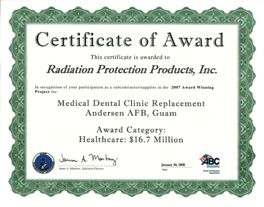 Description:
Radiation Protection Products, Inc. manufactured lead-lined sheetrock and various sizes of sheet lead for this project. Below is the description of the project given by the general contractor, Dick Pacific.
"Dick Pacific Construction was awarded this $16.7 million project on April 28, 2004. Construction began July 5, 2004, and was done in phases to avoid disruption of services at the existing clinic. The existing clinic was demolished when the end user moved into the new Clinic Replacement. The project was completed on January 15, 2007.
The 47,858 square foot medical/dental clinic serves as an outpatient health care facility and provides beneficiaries at Andersen Air Force Base with a state-of-the-art outpatient clinic for medical and dental care that is patient friendly, promotes staff and physician efficiency, and the building has an interior setting that is welcoming and comforting to patients.
The clinic construction consisted of reinforced concrete foundation, slab walls & roof, pre-cast walls, doors, windows, finishes for building envelope, ambulance shelter, trash enclosure, service area and drive, and two (2) parking lots. Interior works include partitions & finishes, millwork, medical equipment, mechanical, electrical, & fire protection. An existing jogging path on the west side of the project area was relocated to accommodate the new parking lot.  Work also included the installation of new parking lot light poles, underground drainage, plumbing, communication, primary duct bank and jogging path light bollards. Approximately 5,169 cubic meters of materials was disposed of as part of the mass civil works.
A crawl space was constructed under the dental treatment areas to provide ease of access for maintenance on all dental utilities. The facility also includes a generator room for the 1000KW standby generator system instead of a separate generator building or weatherproof enclosure. This room can be easily accessed by maintenance personnel inside the facility which is particularly helpful during severe weather conditions."
To learn more about Radiation Protection Products contact us or request a quote for lead bricks or other lead products for your project today!