NDT Imaging Hangar Doors for Graham Engineering Corporation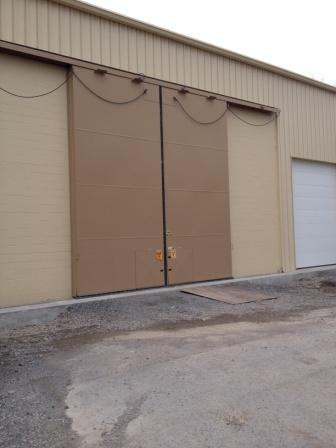 Client: Graham Engineering Corporation
Date: April 2014 
In April 2014, Radiation Protection Products, Inc. (RPP) completed work on a project for the Graham Engineering Corporation in Batavia, New York. The project involved furnishing and installing lead lined x-ray doors for a non-destructive testing imaging hangar.
The hangar itself is a massive structure, designed to house large vessels and other large industrial materials that require x-ray inspection (non-destructive testing) of welds and other critical components. RPP fabricated and installed a huge, bi-parting x-ray door.
Each of the door's two leaves measured 9.25' wide by 20' tall, and contained half-inch thick lead lining. It total, the door weighs roughly 10,000 lbs. Additionally, the top rail of the door is heated to ensure proper door function in adverse winter weather conditions.
General contractor on the construction of the imaging hangar was Manning Squires Hennig Co., Inc.
For more information, contact Radiation Protection Products or request a quote.