Lead Blocks and Bricks for Radiation Shielding
Lead bricks, also called lead blocks, have a high molecular density, making them highly effective at providing protection from gamma rays, x-rays, and other forms of radiation. Radiation Protection Products is your go-to source for high-density radiation-shielding lead bricks for any industrial facility. View our Lead Brick Submittals and CAD drawings to learn more about our capabilities. Contact us or request a quote to get started.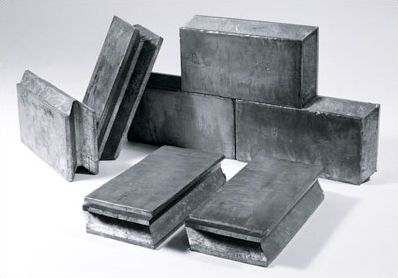 High-Density Lead Bricks Made from Pure Lead
Radiation Protection Products uses only the purest lead for all our high-density radiation shielding products. Absolutely no refining takes place at our facility, making us one of the industry's cleanest, most environmentally friendly radiation shielding providers.
Always consult a licensed physicist before purchasing any lead bricks for radiation shielding in concrete walls. View our lead shielding considerations and other resources for more information.
Interlocking Lead Bricks for Radiation Shielding
Interlocking lead bricks feature a tongue and groove to easily fit into many forms and create a customized radiation shielding barrier. They are an excellent solution for high-radiation applications as they eliminate the risk of leakage, are manageable and easy to stack, and are available in several sizes to suit various shielding and weight requirements:
3/4" x 4" x 12"
1" x 4" x 12"
1-1/2" x 4" x 12"
2" x 4" x 8"
2" x 4" x 12"
2-1/2" x 4" x 12"
All our interlocking lead bricks meet or exceed the federal specification QQL-171 Grade C.
Radiation Shielded Standard Lead Bricks
Standard high-density lead blocks for concrete walls feature a traditional brick shape with a straight edge and can be cut to any size for complete customization. Standard lead bricks should be used with lead mortar or stacked in double rows with a staggered pattern to prevent leakage. In addition to concrete walls, standard lead bricks can be used with lead-lined drywall or other shielding materials.
Our standard lead bricks for radiation shielding meet or exceed the federal specification QL-201-F Grade C, see NCRP #49, #33, #35.
Industrial Applications for Radiation Shielding Lead Blocks
Lead bricks provide a higher level of shielding than lead-lined plywood or lead-lined drywall, making them ideal for constructing temporary or permanent walls, partitions, and other protective barriers. They can also be used for radioactive isotope creation, ballast weights, and counterbalances. Some common applications in laboratories, hospitals, and other facilities include:
Nuclear lead shielding
Gamma knife rooms
HDR rooms
Linear accelerator shielding
The best way to install lead blocks for any application is to sandwich the bricks between two rows of studs or steel tubing, or between a concrete wall and a row of studs. This method enables conduit and cabling to be run without concern for cutting through the lead brick wall.
Contact RPP for High-Density Lead Bricks and Other Radiation Shielding Products
Radiation Protection Products is the industry-leading supplier of radiation shielding lead bricks and other high-density lead products. Our well-seasoned staff is ready to answer questions and assist with designs, budgets, or other concerns. We provide you with turnkey shielding solutions, including installation of lead bricks, anywhere in the world. RPP is ready to handle any specification or requirement on every order.
Contact us to learn more about our products, services, and capabilities. Request a quote for lead blocks to begin your order.