X-Ray Lead Lined Wood Doors
Lead Lined wood doors shield against the transmission of harmful radiation and are typically used in medical settings, airports, and industrial applications. The doors feature interior layers of particleboard and lead with a wood or laminate exterior.
Radiation Protection Products' lead-lined doors are manufactured using only the finest materials and workmanship available. With constant quality control and ongoing inspection, you are assured of receiving the strongest and most functional lead-lined doors possible. To achieve the highest level of radiation protection, lead lined doors should always be installed using lead lined frames.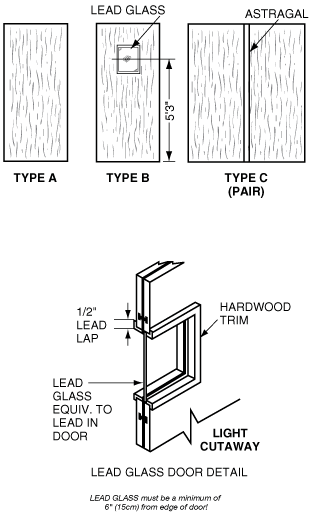 Applications for Lead Lined Wood Doors
Radiation protection is critical for the safety of workers, patients, and clients in settings where X-rays and other imaging equipment are utilized. Lead Lined wood doors defend against radiation in:
Medical X-Ray, PET, or CT Scan Rooms
Imaging centers
Veterinary offices
Airports
Defense applications
Aerospace applications
Lead Lined Wood Doors from Radiation Protection Products
Radiation Protection Products' lead-lined doors are constructed using a single layer of sheet lead in the center of the door. Wood cores are laminated under hydraulic pressure on each side of the lead.
leaded x-ray glass windows and options as listed. Depending on the level of radiation protection that you need, the wooden doors can be manufactured in various sizes and lead thicknesses. We also supply steel braced, lead-lined, hollow metal door frames in standard and custom options.
We manufacture lead-lined doors to your specifications with
Learn more about our frames for lead-lined doors and custom lead-lined doors. View a photo gallary featuring a recent recent project with lead-lined doors.
VIEW CAD DRAWINGS & SUBMITTALS FOR LEAD LINED WOOD DOORS.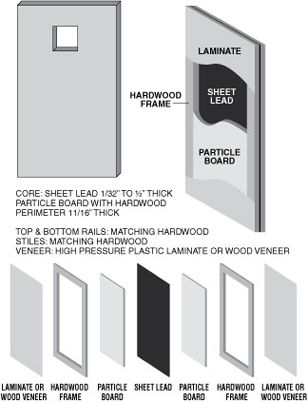 Contact Us Today for Lead Lined Wood Doors
Radiation Protection Products is a small company dedicated to providing unsurpassed customer service. We deliver quotes for lead lined doors typically within an hour or less instead of days and have the time to give our customers the attention they need and deserve.
Contact Radiation Protection Products today or request a quote for lead lined wood doors via our door order form.