Radiation Shielded Door Ordering Info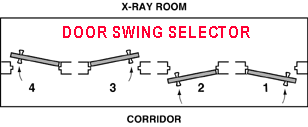 Radiation Shielding Doors
(THIS FORM MUST BE USED TO ORDER LEAD LINED DOORS & FRAMES)
ORDERS FOR LEAD LINED DOORS SHOULD INCLUDE THE FOLLOWING INFORMATION:
Exact width and height
Swing (see swing selector)
Lead Thickness
Any options and locations
Size and location of leaded x-ray glass W x H
Bevel (i.e. 1/8" in 2", 3o)
On double doors, indicate which leaf to receive astragal
Fire rating (Intertek 20 min.)
Finish (Veneer or Plastic Laminate)
Light proof seals
ON PREHUNG LEAD LINED DOORS, INCLUDE THE FOLLOWING ADDITIONAL INFORMATION:
Wall thickness
Hinges and number
Pivots
Lock set or latch set
Size of the leaded x-ray glass
Swing (see swing selector)
Type of frame (i.e. standard hollow metal)
Lead thickness
Stock sizes: 2'0" x 7'0", 2'6" x 7'0", 3'0" x 7'0", 4'0" x 7'0"
Options: Cutout for Leaded X-Ray Glass, Pre-Hung, Custom Wood Veneer, Plastic Laminate and 20 min. Fire Constructed.
Note: Radiation Protection Products uses 1-1/2 pair Heavy Duty Ball Bearing Steel Hinges.  Custom lead lined doors quoted upon receipt of specifications.
Radiation Protection Products can supply any type of Plastic Laminate Face Panels, as well as Face Panels of Natural Birch, Red Oak and other Wood Veneers.
Lead thickness from 1/32" to 1/2" in Wood Doors.
Special Lead Lined Doors and Neutron Doors quoted upon receipt of specifications.
All Lead Lined doors are manufactured in accordance with N.W.M.A. Industry Standard Special Construction Wood Flush Doors #I.S.I4-80.
NOTE: All Radiation Protection Products Doors are custom made, non-cancelable and non-returnable.
Download the door order form as a PDF.
For complete radiation protection, contact Radiation Protection Products or request a quote.