Neutron Shielding Doors
Neutron radiation therapy is typically used to treat cancer cells and inoperable tumors. This type of radiation produces high kinetic energy that passes through standard construction materials easily, creating an exposure risk to staff and patients. Because of these risks, clinics, and hospitals that use neutron radiation therapies require a higher level of shielding than those utilizing only gamma-ray radiation therapies. Neutron shielding doors are an essential part in constructing rooms in which radiation therapy is performed. 
Industrial neutron shielding doors are thicker and heavier than standard lead-lined wood or metal doors and contain an interior layer of lead brick for additional shielding. When used with radiation-shielded walls typically utilizing lead brick and often times borated polyethylene, these heavy-duty doors provide superior protection from radiation exposure.
Examples of applications that require neutron shielding doors include:
Gamma Knife Radiosurgery
ACCURAY Cyber-Knife®
High Dose Rate (H.D.R.) Brachytherapy
Linear Accelerators (LINAC)
Proton Therapy
Cobalt Therapy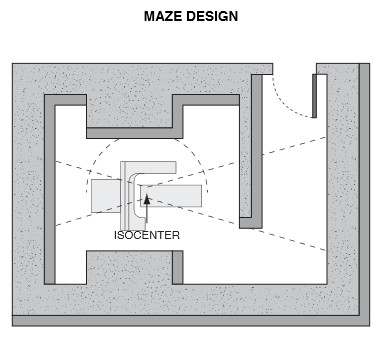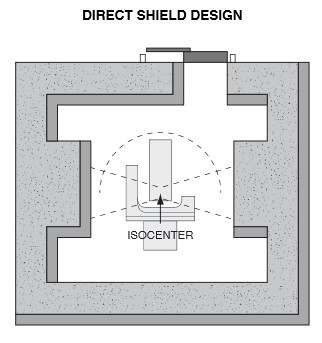 Customized Neutron Radiation Shielding Solutions
Radiation Protection Products works with you to design and manufacture neutron shielding doors and other radiation shielding products based on your needs. We have the resources and industry expertise to handle projects of any size. Our fast quote turnarounds and exceptional customer service also ensure your project stays on track and within your budget.
We manufacture neutron shielding doors in swinging and sliding styles. Our doors feature lead brick up to 6" thick and have a 1/4" steel faceplate. We also use A-36 steel flat bars for the stiles and to reinforce the door interior. Standard widths for swinging and sliding doors range from 56" to 76".
Choose from direct shield or maze design options based on your therapy room configuration. Further customize your neutron door with additional safety features such as standard or light curtain presence sensors, pressure-sensitive safety edges, and battery backup.
Flat bar thicknesses for the stiles and reinforcement are dictated by the core of the door. A licensed physicist can help you determine the level of core shielding your application requires.
Case Study: Neutron Doors for Medical Equipment Testing Facilities
A premier manufacturer of radiation therapy equipment needed neutron shielding doors for three newly constructed testing cells at their facility. Two of the cells had unique configurations, requiring additional shielding to contain radiation during testing.
Read our case study, Neutron Doors & Wall Shielding for Varian Medical Systems, to learn how we constructed five massive neutron doors to meet this company's shielding requirements and accommodate their unique design challenges.
Contact Us to Discuss Design Options for Neutron Shielding Doors
Radiation Protection Products works with hospitals, clinics, laboratories, and industrial facilities to create tailored radiation shielding solutions. Each neutron door we manufacture is designed for safety, convenience, versatility, upgradability, patient throughput, and longevity.
Our team can manufacture neutron shielding doors in the size and thickness you require, and we provide installation assistance when needed. Contact our neutron shielding experts today to discuss your project or request a quote.