Nuclear Shielding Products for Power Generation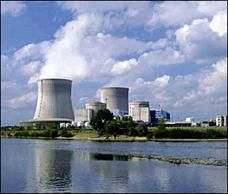 Nuclear radiation shielding materials are widely used in the construction of nuclear power generation plants and nuclear submarines. Comprehensive shielding is essential in containing harmful radiation and protecting workers from exposure. 
There are several considerations in choosing the right nuclear shielding and protection products, including time, distance, and shielding. Radiation exposure in nuclear power plants can be managed effectively by one or more of these standards:
Reducing the time of radiation exposure
Increasing distance from radiation exposure
Utilizing nuclear shielding to greatly decrease or prevent radiation doses
Lead offers the utmost radiation protection for nuclear power shielding applications. However, we recommend working with a physicist specializing in the nuclear shielding industry to ensure accuracy and compliance in your shielding calculations.
Industry Standard Nuclear Radiation Shielding Products
Radiation Protection Products manufactures a full line of nuclear shielding and industrial lead shielding products. We only use pure lead and have strict quality control practices in place to ensure your nuclear radiation shielding products meet industry standards.
Nuclear shielding lead products are cost-effective and provide the most space savings without sacrificing shielding effectiveness. Most of our nuclear power shielding and protection products come in standard and custom sizes.
We provide complete turnkey nuclear shielding solutions, including design, consultation, and installation services to support your project from start to finish.  
For more information, contact 
Radiation Protection Products
 or 
request a quote
.