Lead Lined Drywall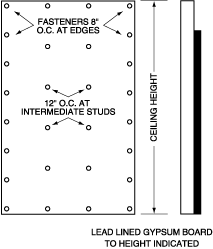 Lead-lined drywall, also called lead-lined sheetrock, is a gypsum board that is laminated with sheet lead to provide shielding from high-level gamma-ray and X-ray radiation. Lead-lined sheetrock is integral in medical, scientific, and industrial applications that use high dose radiation for diagnostic imaging and procedures.
Some of the typical installation applications for lead-lined sheetrock include:
C-arm Radiography
Fluoroscope Rooms
CT Scan Rooms
Laboratories
Commercial builders also use lead-lined drywall for applications requiring abuse resistance, impact resistance, and mold or moisture resistance.
Lead Lined Sheetrock for Radiation Shielding
Using lead-lined drywall provides a permanent solution for radiation shielding and offers more effective protection than partitions and mobile forms of shielding. This is especially important for treatment rooms and other applications where employees are at risk of prolonged radiation exposure.
Advantages of installing gypsum board with lead lining include:
Provides effective floor-to-ceiling radiation protection
Offers design flexibility for use in walls, floors, and ceilings
Eliminates the risk of radiation leakage when properly installed
Available in varying thicknesses to meet a wide range of shielding requirements
Lead Lined Drywall Manufactured to Meet Your Shielding Requirements
Radiation Protection Products offer a wide variety of lead-lined drywall sizes to meet your shielding application requirements. We use only Fire Code Sheetrock in our lead-lined drywall products, and our lead lining is made from the purest lead available.
Our lead lined gypsum board is offered in 1/2" or 5/8" drywall thicknesses, with custom sizes available. We provide lead lining in thicknesses up to 1/8" with an option of double layering for high radiation applications.
For the installation of your lead-lined drywall, we also provide 2" lead strips of the same thickness and height of your lead sheeting for sealing vertical joints.
For specialty radiation shielding applications, we offer the option of lead lining bonded to moisture and mold resistant gypsum board. Our lead can also be laminated to most of your drywall requirements, including, but not limited to, the following:
Impact-resistant wallboard
Fire-rated wallboard
And virtually all USG, National Gypsum, Temple Inland and Georgia Pacific products
View our CAD Drawings & Submittals for more lead-lined drywall sizes, information, and specifications.
Industry Specifications for Lead Lined Sheetrock and Lead Sheeting
Radiation Protection Products provides sheet lead and gypsum board that meets or exceeds various industry specifications to ensure top quality radiation shielding products.
The sheet lead used in our lead-lined gypsum board meets or exceeds the following:
Federal Specification QQL-201 F Grade C for Lead Sheet
ASTM B749-03 Standard Specification for Lead and Lead Alloy Strip, Sheet and Plate Products
NCRP reports #33, #35, #49 and #147 for Radiation Protection
All gypsum board used in our lead lining products meets or exceeds the following specifications:
ASTM C1396 Standard Specification for Gypsum Board
ASTM C840 Standard Specification for Application and Finishing of Gypsum Board
Federal Specification SS-L-30D Grade X Type III or Gypsum Board
Requirements for Lead Lined Drywall Installation
Lead lined gypsum board consists of a single unpierced sheet of lead laminated to the specified thickness of the drywall. The lead sheeting is bonded to the gypsum board with a continuous layer of mastic adhesive.
To fully support the weight of the lead, we recommend using 5/8" gypsum board for your lead wall installation. If your radiation shielding application requires the use of lead sheeting exceeding 1/8" you will likely require lead-lined plywood to support the weight of your lead wall properly.
Proper installation of lead-lined drywall is critical to prevent radiation leakage. All lead-lined gypsum board should be installed with the joints running vertically from floor to ceiling to meet industry standards. 
Fasten your lead-lined drywall at a minimum of 8" on center at the edges of each sheet, and at a minimum of 12" on center at the intermediate studs with standard drywall screws.
Apply 2" wide strips of sheet lead of the same lead thickness to each of the joint studs using a standard type of construction adhesive. These strips of sheet lead will provide the necessary 1" overlap with the adjoining sheets.
Cover all fasteners with a lead disc 3/8" in diameter and equal in thickness to the lead laminated to the sheetrock to eliminate the possibility of radiation leakage at the point of fastening. The lead disks should be applied using a fast-drying construction adhesive.
Methods and Specifications for Installing Lead Walls
Refer to the drawings below for the typical methods of installing and fastening lead lined gypsum board.
Our details on cut-outs and penetrations also provide useful information regarding proper shielding of light switches, air ducts, and other receptacles.

Learn More About Lead Lined Sheetrock and Other Radiation Shielding Solutions
Contact Radiation Protection Products to discuss our lead-lined gypsum board, radiation-shielded windows, and other industrial lead products. We provide superior customer service and offer fast quote turnaround to help you keep your project on schedule.