Lead Roof Flashings
Lead flashings are a weatherproofing product placed over roof vents or wall joints to prevent moisture from seeping into construction material and causing mold or other damage. Unlike flashings made from rubber, lead roof flashings are more resistant to punctures, tears, and other damage. Lead vent flashings will handle environmental elements longer than any other type of flashing material.  
Adjustable pitch flashings come in a range of widths and thicknesses and weights to accommodate various roof thicknesses. Industrial lead roof flashings effectively minimize water penetration in roof valleys and around protrusions such as: 
Chimneys
Door Openings
Skylights
Vents
Walls
Windows
Customized Lead Roof Flashings for Commercial and Industrial Applications
Radiation Protection Products offers custom fabricated lead roof flashings consisting of lead pipe boots burned to a sheet lead base. There are different codes of lead roof flashing to determine the weight or thickness of the lead sheet:
Code 3 lead flashings are 1.32mm thick and weigh 3 lbs. per square foot. This is the thinnest gauge of commercial roofing lead. Code 3 lead roof flashing melts easily for welding and works well in lightweight applications.
Code 4 lead flashings are 1.80mm thick and weighs approximately 4 lbs. per square foot. This lead flashing is highly workable and versatile for a variety of roofing applications or use as window and cover flashings.
Our standard lead flashing weights include 2-1/2, 3, and 4 lb. options with heavier weights available by special order. Adjustable lead roof vent flashings are also available upon request. We manufacture all lead flashings and shielding products in accordance with Lead Industries Handbook and all NCRP Applicable Reports s (#33, #35, #39, #40, and #49), and NBS, HB. #114.
Lead Vent Roof Flashings
Radiation Protection Products' custom fabricated lead roof flashings consist of a lead pipe boot burned to a sheet lead base. To seal to the vent pipe, simply roll the open end of the malleable lead boot to the inside of vent pipe.
The Standard weights of lead are 2½, 3 and 4 lb. Heavier weights (6 and 8 lb) are available by special order. See instructions for ordering.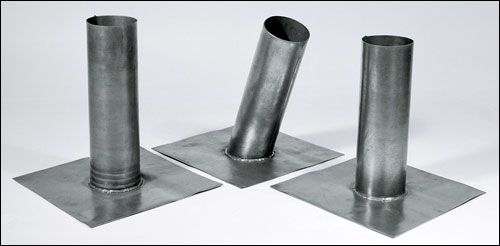 Adjustable Lead Vent Roof Flashings
Similar to the above lead vent roof flashing but having the unique feature of a corrugated boot at its base. This permits flexing of the boot. When ordering adjustable flashings, please list information as shown in items 1 through 4 below.
When contacting us about flashings please provide:
Pipe Size
Base Size
Boot Height
Weight of Lead
Roof Pitch
Request a Quote for Commercial Lead Flashings
Radiation Protection Products offers lead flashings and other industrial lead products for radiation shielding and construction applications. Contact us to learn more about our turnkey solutions for lead radiation shielding or request a quote.