Lead Lined Plywood
Radiation Shielding
View CAD Drawings lead lined plywood
Veneer Plasterboard
All of these products are available with the same lead requirements and applications as the Lead Lined Drywall (lead lined sheetrock, lead lined gypsum wallboard).
Lead Lined Plywood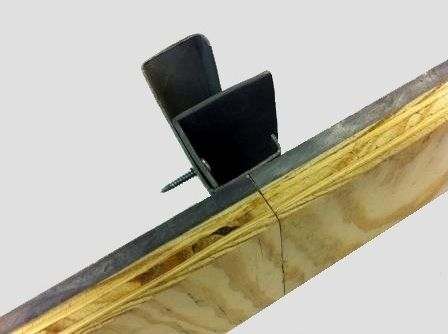 Many types of plywood are available upon request. We can readily offer 5/8" and 3/4 " thick fire treated plywood meeting or exceeding the following specifications:
ASTM D5516
ASTM D5564
ASTM E-84
We also offer CDX, Pyro-Guard, HI- ABUSE® & HI-IMPACT® FIRE-SHIELD WALLBOARD, best used with our lead angles.
Lead lined plywood is typically recommended with heavier lead shielding requirements, usually when the lead shielding exceeds 1/8" thick.  Lead lined plywood at these thicknesses becomes very heavy to handle in full sheet form (4' x 8').  We recommend having us cut the lead lined plywood into widths that equal your on-center stud dimensions (e.g. 12" or 16").  This will make the lead lined plywood much more manageable for the installer.
Example:
1 sheet of 3/4 " x 4' x 8' plywood with 1/4 " lead lining to 7' weighs approx 505 lbs.
1 sheet of 3/4 " x 16" x 8' plywood with 1/4 " lead lining to 7' weighs approx 168 lbs.

Just like lead lined drywall, you must account for the shielding of all penetrations, seams and cut outs in the lead lined plywood. If the lead lined plywood is cut to the on-center stud dimensions, lead angles of the same lead thickness and height will shield all the joints and fastener penetrations. The cut outs (receptacles, light switches, etc…) will need to have shielding behind them as well to ensure total protection.
Click here for details on cut-outs and penetrations.
We can do the lead shielding installation for you! 
Contact Radiation Products or request a quote to learn more about their industrial lead products.