Custom Radiation Shielded Lead Lined Doors and Frames
Radiation Protection Products offers pre-hung lead lined doors, lead lined door frames and door accessories for your radiation shielding applications. Our custom lead lined doors are available in several veneer and plastic laminate finishes 
Pre-hung Lead Lined Doors
Pre-hung lead lined doors might be the answer for that special job. Radiation Protection Products, Inc. can supply you the lead lined door, lead lined door frame, hinges, lock or latch set and all the accessories in one package.
Radiation Protection Products uses a variety of face panels.  We offer Natural Birch, Red Oak and other wood veneers, plus plastic laminates.  Basic lead thickness range from 1/32" to 1/2" in wood doors.  Special order lead lined doors and door pairs are available as quoted.
LEAD LINED DOOR OPTIONS:
Cutout for leaded x-ray glass
Pre-hung
Custom wood veneer
Plastic laminate
20 minute fire constructed
FIRE RATED LEAD LINED DOORS
Radiation Protection Products' fire rated lead lined doors are 20 minute constructed as certified by Intertek.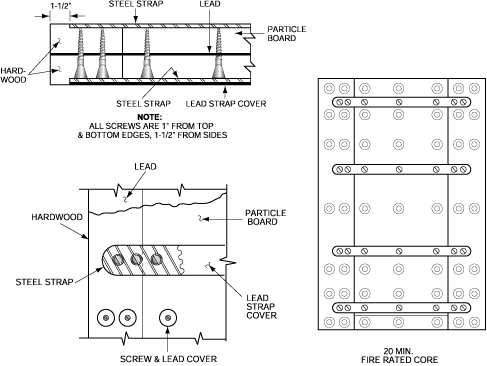 Complete specifications/drawings upon request.
Include the Following Information with your Lead Lined Door Order:
Width and height (specify 7"0" or 6'8")
Finish (veneer or plastic laminate)
Lead thickness
Any options and locations
Size and location of leaded x-ray glass W x H
On double doors, indicate which leaf to receive astragal
For complete radiation protection, contact Radiation Protection Products or request a quote.