Neutron Doors/Radiation Shielded Doors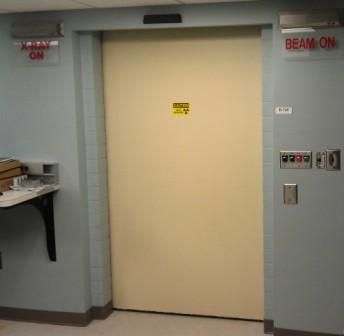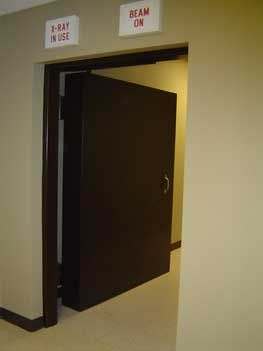 Neutron radiation is ionizing radiation produced by nuclear fission and nuclear fusion processes. Because of neutrons' high kinetic energy, neutron radiation is considered the most severe and dangerous type of radiation. Neutron shielded doors and related neutron shielding products (door frames, etc.) feature lead lining that protects personnel against the harmful effects of neutron radiation. Neutron shielded doors are commonly used in construction for a variety of radiation applications, including linear accelerators, gamma knife, ACCURAY Cyber-Knife®, P.E.T., proton therapy, H.D.R., cobalt, and more.
Radiation shielded doors are available with lead lining in a range of thicknesses to meet the neutron shielding needs of the application at hand.
Your #1 Shielded Doors Suppliers
As one of the industry's leading shielded door manufacturers, Radiation Protection Products manufactures and installs neutron doors and accompanying neutron shielding products in styles, sizes, and configurations to match our customers' specific requirements, including direct shield and maze designs (see diagram below). Some of the more common neutron shielding door options that we provide include:
Linear accelerator maze neutron shielding doors
Linear accelerator direct neutron shielding neutron doors
ACCURAY Cyber-Knife© radiation shielded doors
H.D.R. radiation shielding doors
RPP's Neutron Shielded Doors are Designed for:
Safety: multiple safety devices and backup safety devices are available for all radiation shielded doors
Convenience: all neutron shielding doors, and the installation thereof, are completed with the utmost attention to the client's and patient's convenience
Versatility: every RPP radiation shielded door is completely customizable to meet the client's exact requirements (size, swing or slide, installation method, etc.)
Upgradeability: all neutron shielding doors can be manufactured to offer extra door space and additional strength to easily accommodate an upgrade with minimal added cost
Patient Throughput: RPP strives to achieve maximum patient throughput without sacrificing safety (partial open feature reduces staff waiting times)
Longevity: our custom designed radiation shielded door frames are designed to achieve superior longevity. Our unique gusset/dowel system, used in conjunction with the bent steel reinforcement, ensures a perfect marriage between both hinges, even after years of heavy usage.
Full-Service Installation for Neutron Shielded Doors
Our seasoned neutron shielded door installation crews have 25-plus years of experience, and will ensure the highest level of quality, diligence, and safety-driven project management. Our team makes safety procedures a priority for each project every step of the way.
RPP offers turn-key solutions for all radiation shielded and neutron shielding products. We have structural engineers to assist with all your construction requirements and licensed medical physicists to assist in any neutron shielding requirements. We can assist you with all the installation, regulation, and customization needs of your neutron shielding project.
Neutron Shielding Door Options
Most neutron shielding door systems utilize either a direct shield or maze design. RPP offers both options, and can work with you to determine the best system for your safety and spatial requirements.
Contact Us for Complete Neutron Shielding Door Solutions
Radiation Protection Products are the only neutron shielded door suppliers and installers you need. We have the right solution for your application, with custom designed neutron shielding doors and neutron shielding products that meet your exact specifications.
Submit your project, request a quote, or contact us for more information on our neutron/radiation shielded doors.